July 2001
"Top Format Productions" released NEW Demo CD !


Its summer and Top Format shows it - With a new designed website and the 2001 Spring Collection demo CD. First presented on May 31 at the Radioday in Cologne (Germany) now available for the world...
Small disappointment for the German Top Format fans, on this demo CD are only Dutch (and flemish) jingles.
With 5 packages for Dutch national radio, 2 for flemish-belgium national radio and 2 packages for the dutch commercial radio 538 (incl. some jingles from the popular Radio 538 DJ Edwin Evers in "100% hits 2000").
The beautiful jingles for Flemish Radio 2 are a delight to listen to. Finally not to forget to mention the nice touch in the Wanadoo Top 40 package to use bits of the wellknown Veronica Top40 jingles bringing them really in the the new century in a 2001 mix !
2001 Spring Collection




TF01033
2001 NL


1.
The New Vibe 2001
05:47
NPS Radio 3FM (National radio), the Netherlands
2.
Top40 2001
05:17
Radio 538, the Netherlands
3.
Mega Charts 2001
04:28
TROS (National radio), the Netehrlands
4.
2 For You 2001
06:42
VRT Radio 2, Flemish-Belgium
5.
Donna 2000
02:22
Radio Donna, Flemish-Belgium
6.
Euro Talk 2001
05:33
BNN (National radio), the Netherlands
7.
More Than 2 ID´s
05:35
NOS Radio 2 (National radio), the Netherlands
8.
More Than 2 Themes
07:54
NOS Radio 2 (National radio), the Netherlands
9.
100% Hits 2000
05:08
Radio 538, the Netherlands
Request your copy of the demo cd from info@topformat.nl
And dont forget to have a look on the "new" website topformat.nl
May 2001
"JAM Creative Productions Inc." released 4 NEW Demo CDs !


AC 4

Hot 1

Authentic 80s

Holiday

4 New Demo CDs

It has been a while but after 3 years JAM brings us 4 new demo CDs.

That AC packages are popular shows the 4th AC volume and even a special HOT-AC Volume 1 CD. Some of the packages on them could already be heard on Top Formats "Ratings Up" demo CD. Like "Evolver", "Very Nice" and "Z+".

The "HOT" CD has 2 demos on it for "BBC Radio 1" "The Ultimate One" and "Closer To The Music".
On AC4 you can find the follow-up packages for WNIC after the great "It´s Nice" package its now time to hear "Really Nica" and the before mentioned "Very Nice". Also on AC4 are 2 KOST packages "The Most Coast" and "Clearly Coast".

The other 2 CDs are 2 special one is a great Holiday/ Christmas Demo CD "Jingle All The Way" with the very nice Santa Claus presented demo the "A Touch Of Christmas"-package for KVIL Dallas TX. And my favorite christmas songs on track 11 "TV Promos" as part of the "Holiday Jam". A presentation of holiday jingles used in other packages such as "Yours Truly", "No One Does It Better" and "Its A Goodfeeling To Know" etc etc etc... example: TV10


The 4th CD is back to the eighties, with "Authentic 80s". Original jingle packages made in the 80s that can be customed for today. As has been done for "the Eighties Channel" WXXY in Chicago. On the CD are 4 packages done in the eighties for WLS Chicago "The Rock", "AM", "FM" and "Rockin´ For America". For who missed the 2CD Classic Jam is also "Double Plus" and "Hitradio", "FM" on this CD added with 15 others.

Click on the links underneath the pictures on the left to see detailed track listing of the particular CDs !
For more information www.jingles.com.
Januari 2001
"JJ McKay" Voice imagery for ALL formats
WILQ/Williamsport, PA--#1 (Country) WKSJ/Mobile--#3 (Country) WOOZ/Carbondale, IL--#2 (Country) KCLD/St. Cloud, MN--#1 (CHR) KDUK/Eugene, OR--#2 (CHR) WRQN/Toledo--#6 (Oldies) KGEE-FM/Odessa,TX--#2 (Country) WRBR/South Bend--#4 (Rock) WEJM/Philly (JAMMIN' Oldies)WYUU/Tampa (Oldies) KKRD/Wichita--#1 (CHR) KAMR-TV/Amarillo, TX; WKIX-FM/Raleigh, NC; WCHA/Chambersburg, PA

JJ McKay

JJ McKay is the image voice of radio and television stations worldwide.
Offering ISDN, DCI or MPEG3 digital delivery. The known voice of JJ McKay from WINAMP and SHOUTCAST jingles offers fully produced sweepers, IDs, promos and commercials surprisingly affordable!

You can download the latest demos from their website.

For more information jjmckay.com.
September 2000
"Radio Contact Top 15" - 1996/97 and 1998/99



A total of 8 Radio Contact jingles on the two compilation double CDs released by SONY Music Media.
Released has been 1996-1997 with for 1996: Los Del Rio, Fools Garden, Paradisio, Mr.President and others.
For 1997: Era, Katrina & The Waves, Sash!, Patricia Kaas, Angun, Wes and more.
On the 1998 CD are: Tarkan, Jennifer Paige, Axelle Red, Five, Allan Theo, Dario G and others.
The 1999 CD is filled with songs from: Ann Lee, Technotronic, Vengaboys, TQ, Moloko, Earth Wind & Fire and more...

Each CD has 15 songs and 2 Radio Contact Jingles. One jingle from the Flemisch service and the other one from the French language service. The jingles are done by, not credited on the CDs, Temple Of Tune.

Radio Contact started her programs on March 1980 in Brussels (Belgium) with 24 hour live transmissions in both languages.
Today Radio Contact has grown from local free radio into a international radio network with 100's of stations nationwide in Belgium alone.

See also their internet site: radiocontact.be
Or download the screensaver: Radio Contact Screensaver

June 2000
"SOB productions/TMCentury Demo Two
SOB - Studio Oud Bussum from the Netherlands released a double CD "DEMO TWO" packed in a fold out carton cover.
The 2CD contains their own jingles, production music and the jingle packages from TM Century (Dallas, TX).
These packages are NOW available for the European market and can be sung for you in your own language! SOB and TM Century can produce custom made jingles for your station as well: from scratch they compose and produce a package that exactly fits your station's needs.
CD1 consists of a range of jingle packages that were created in the SOB studios for various radio stations:
-1- M-Tracks
Radio M (Middle of Holland, regional)
the Netherlands
Adult Contemory
-2- 3Some
Radio Netherlands, Radio 3 ("Stenders vroeg")
the Netherlands
Dance/CHR
-3- The After Party Zone
KISS FM 90.7
Czech Republic
Dance/CHR
-4- Adult Entertainment
Noordzee FM ("De Ochtendshow")
the Netherlands
HOT AC
-5- Millenium Proof
Noordzee FM
the Netherlands
MODERN/AC
-6- The Party Zone
KISS FM 90.7
Czech Republic
DANCE/CHR
-7- TROS Gold
Radio Netherlands: TROS ("de Gouden Uren")
the Netherlands
HOT AC
-8- MEGA Hits
Noordzee FM "Mega Top30"
the Netherlands
HOT AC
- 9- Paradise Lost - Electric (special offer)
-10- XRules 4.0
-11- Speedtracks 3
The second CD contains "The Global Beats"-CD with 16 brand new jingle packages from TM Century that can be sung for your station now.

SOB Productions is now Europe's representative for the world-renowned jingles from TM Century. All TM Century jingle packages can be now be sung with singers from your own country & in your own language.
Or, if you prefer the "Dallas-sound", sung in Dallas by the famous TM Century vocal group.

- 1- Introduction
- 2- Global Beat
Hit Radio Z104
CHR
- 3- Big Phat Kiss
KISS 95.1
CHR/Dance
- 4- Hot 100
The Party Station - Hot 100
CHR/Dance
- 5- Planet Energy
Z102.3
CHR/Dance
- 6- Ignitor
100.7 MIX FM
CHR
- 7- Alice 106
Alice 106
CHR/Alternative
- 8- Monumental Mix
MIX 107.3 Washington
HOT AC
- 9- Washington's Mix 107.3
MIX 107.3 Washington
HOT AC
-10- Twin Cities KS-95
94.5 KS 95 Minneapolis
MODERN AC
-11- Big Time 2000
94.5 WKTI
HOT AC
-12- Boston's Best Mix
MIX 98.5 Boston
AC
-13- Kansas City 2000
98.1 KUDL Kansas City
AC
-14- Hallelujah! Its Morning
various
MORNING SHOW
-15- Original Morning Show cuts
various
MORNING SHOW
-16- Fun Oldies
Magic 102.7
OLDIES
-17- WBBM 780
WBBM 780 Chicago
NEWS TALK
-18- How to buy jingles
various
CALL SOB!
For more information:
.
December 1999
"The Magic Of PAMS", John Wolfert announced this INCREDIBLE 10 CD box as follows:
"I hope you enjoy ´The Magic of PAMS´ collection.
It was a lot of work, and I look forward to reading your comments, questions and memories about PAMS jingles.
Thanks to all of our fans worldwide who have supported the idea of this project, and have waited patiently for its completion!
Jonathan Wolfert Dallas, TX USA
- Wednesday, December 1, 1999 at 00:00:00 (CST)"

"The Magic of PAMS" is a comprehensive 10-CD box set collection of demo presentations from all the PAMS numbered series. It begins with Series 1 from 1956 and concludes with Series 49 from 1977. All of the lettered variations of each package are included. There are also several bonus items of interest.

See for more information: PAMS - The Magic Of PAMS - The PAMS numbered series demo collection on CD!
July 1999
A new promotion CD "Jingles (Need Some?)" has been released by Top Format Productions.
The nice folded double digi-pack consists of 22 demo tracks. On both CDs is a 'lyrical' CD-Rom track included. If you want to have a good 'taste' from the quality of Top Format Productions then have a listen to track 10 from CD2 the Client Montage.
This is a overall coverage from jingles produced for european radio stations. You can download all 22 tracks in good MPEG-3 quality:
CD1:
cuts
CD2:
cuts
1. Today's Hits
15 NL: Radio 538
1. Virginity 1 & 2
17 UK/NL: 1215 AM Virgin/ 3 FM
2. Plug and Play
19 NL: Radio 3 FM
2. Z+
20 US: NY - Z 100
3. Kiss and Tell
14 GER: KISS FM 96.9
3. Heartbeat
26 UK: London - Heart 106.2
4. Kiss my Hit
12 GER: 100,7 Hit FM
4. Attitude Control
18 US: Newsradio 970 WFLA
5. Xtra Energy
25 NL: TROS op 3 FM
5. Hot Buttons
12 US: All news 67 WMAQ
6. Dance Boost
14 GER: Radio 3 FM
6. Super Station
21 US: Detroit - 760 WJR
7. Hit Boost
17 NL: Radio 3 FM
7. Heat It Up
16 US: Santiago - KSON
8. Rock Boost
10 NL: Radio 3 FM
8. Overdrive
16 US: 106.7 WFOR Country
9. The Girl Next Door
15 NL: Rebecca
9. In Focus
14 US: Santiago - KSON
10. Good Morning
10 NL: TROS op 3 FM
10. Client Montage
-- compilation european jingles
11. Go West
10 NL: Radio West 88.4 FM
11. Credits & Sales Talk
-- outro
12. Adults First
19 AUS: Burgenland Eins


See for more information: www.topformat.nl
19, 20 & 21 feb 1999,

From 19 until 21 februari 1999 the local radio station STADS Radio Den Haag gives air time to Radio 25 to celebrate 25 years of professional pirate radio in The Hague.
During these ´celebrations´ Radio Centraal (1974-1999) has been taken 2 times of the air (saturday morning and sunday evening).
Because of the 25 years of local pirate radio a CD has been released titled: "Radio 25 Smul CD"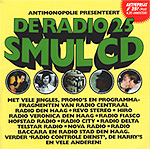 Jingles and program items from:
Radio Centraal, Radio Den Haag, REVO Stereo, H.I.R.O., Radio Veronica Den Haag, Radio Fiasco, Hofstad Radio, Radio City, Radio Delta, Telstar Radio, Nova Radio, Radio Baccara en Radio Stad Den Haag.
Also the RCD, the ´Harry´-transmitters and many others...

52 tracks 73m01s playing time !
June 1998,

Top Format Productions released a NEW Jingle CD "Ratings Up - Tomorrow´s Jingles For Today´s Radio". The CD includes jingles from:
track nr
Radiostation
location
#jingles
(track 2)
Radio 538
The Netherlands
[19]
(track 3)
Z-100
New York
[27]
(track 4)
KISS FM
Portugal
[15]
(track 5)
HIT FM
Germany
[12]
(track 6)
KKFY Power 92
Phoenix, Arizona
[17]
(track 7)
Radio 3 FM
The Netherlands
[14]
(track 8)
Heart
London, UK
[26]
(track 9)
KS-95
St.Paul, Minneapolis
[23]
(track10)
WNIC
Dearborn, Detroit
[20]
(track11)
Radio Donna
Belgium
[21]
The 1st track of the CD is a CDRom track. This track includes files in MS-Word format with the indexes of the jingle packages. Our favorite tracks from these CD are the jingles for WNIC especially the female voice on jingle #13. Not to forget the Heart jingles. The 1st one has been used before, on a previous Top Format CD, in a Dutch version for Radio Totaal FM.

See for more information: www.topformat.nl
---
(c) SFC/the Jingles & Tunes Experience 1998...2001. E-mail: the Jingles & Tunes Experience